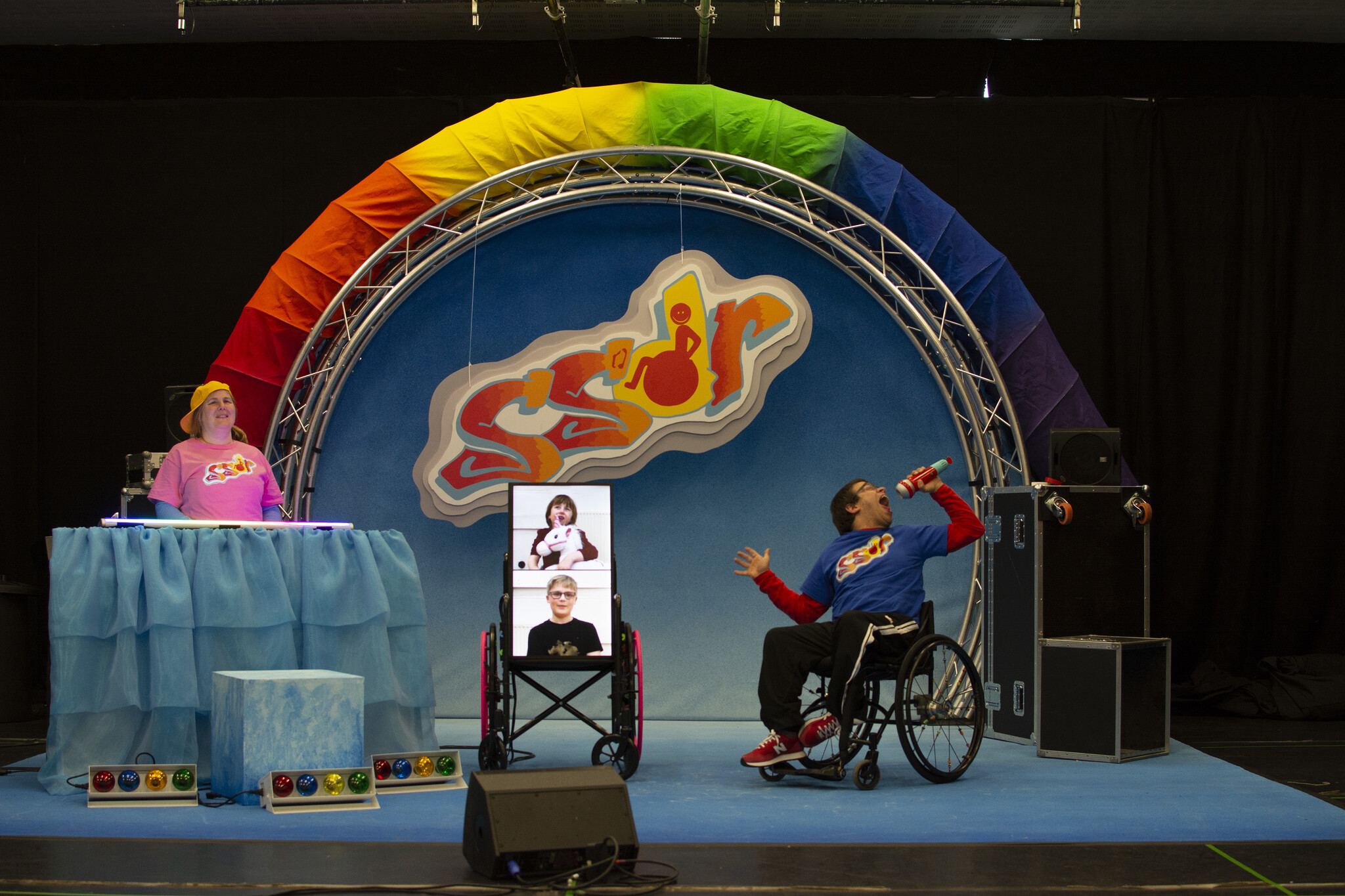 Scotland
The Super Special Disability Roadshow
What's it like to be disabled in 2022?
Find out in this hilarious, heart-warming, and delightfully honest multimedia show, presented online, for all ages. Embracing the digital era, Rob and Sal are testing out a new, high-tech version of their roadshow, which teaches audiences what it's like for disabled people in today's world. All seems to be going well for the two hosts...until the younger crew sets them straight!
Drawing on stories and experiences of disabled children and adults, this rousing musical show explores what it means to be disabled and how different generations of disabled people feel about their identities.
A smart, energising and nuanced experience – perfect for anyone eager to grow their understanding and explore how we talk about disability.

Recommended for 8+
This production was originally recorded in the United Kingdom and is interpreted in British Sign Language. Closed Captions are automatically available on this stream. Please get in touch with our Access & Inclusion Coordinator if you have any questions about BSL interpretation and this production: Natalie.braid@aaf.co.nz
"Robert Softley Gale and his brilliant co-creator – composer, songwriter and pianist Sally Clay – continue the exploration of the changing politics of disability that Birds of Paradise began, in rousing style, with their 2018 Fringe hit musical My Left Right Foot."
"A warm and funny experience that achieves what all the best theatre does: open a window on other lives"
Writer
Director
Composer
AV Design
Set & Costume Design
BSL Interpreter
Audio Describer
Sound Design & Production
Performers

Robert Gale
Sally Clay
Oona Dooks
Oliver Martindale & Natalie MacDonald

Production Manager
Stage Manager
AV Technician
Production Sound Engineer
Film Makers
Marketing Consultant
Image

'Super Special Disability Road Show' by Birds of Paradise
originally commissioned by Imaginate