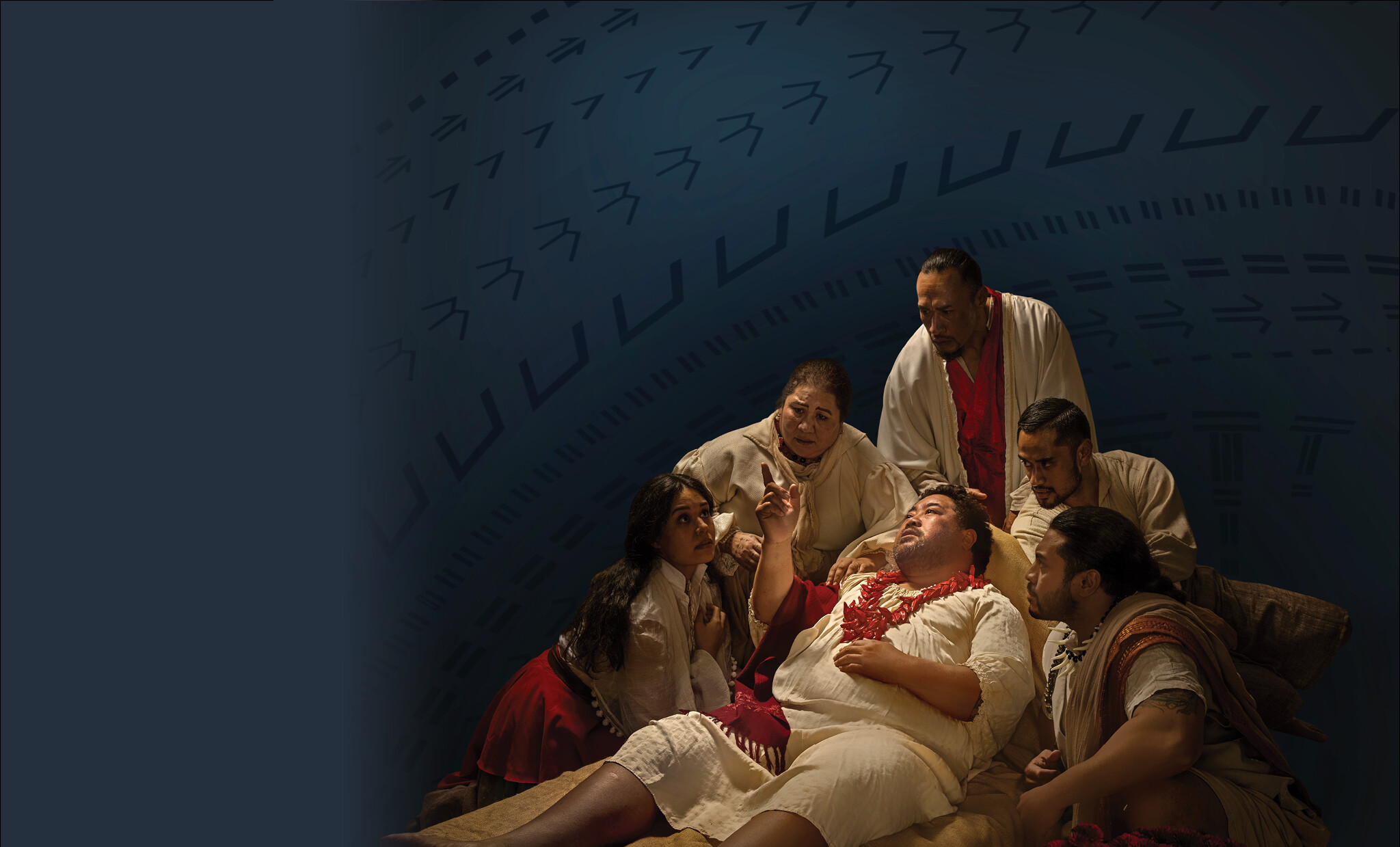 Aotearoa NZ
O le Pepelo, le Gaoi, ma le Pala'ai | The Liar, the Thief, and the Coward
A darkly comic exploration of the fa'a sāmoa, where family, leadership and legacy converge in spectacular chaos.
In Sāmoa's not-so-distant past, Pili Sā Tauilevā is a proud Ali'i (chief) in the village of Moa. He has devoted his life to the sacred fa'a sāmoa tradition of service. When he suddenly falls gravely ill and refuses to name a successor, his daughter and son become rivals for the title.
O le Pepelo, le Gaoi, ma le Pala'ai | The Liar, the Thief, and the Coward is a bilingual, modern tale of a man whose time is running out. Who then will survive?
O se fatuga fa'amālie e au'ili'ili ai le Fa'a-Sāmoa, ma le gaogaosā pe a feiloa'i aiga, ta'ita'i ma talatu'u.
O vaitaimi e le'i leva atu i Samoa, sa iai Pili Sā Tauilevā o se Ali'i (matai) mitamitavale mai le afio'aga o Moa. Ua tu'u atoa lona ola ma le malosi i le tausisia o agaifanua Fa'a-Sāmoa. Na faaulumalō e leai ma se isi e sui tulaga ia te ia ina ua fa'afuase'i le ma'i tigaina, ma ua vevesi lona afafine ma le atali'i i le suafa matai.
E lua gagana o fa'amatalaina ai le tala fatu fa'aonaponei O le Pepelo, le Gaoi, ma le Pala'ai | The Liar, the Thief, and the Coward i se tamaloa ua fai ifo lona malosi. O ai a tulai mai?
Artist Talk
Ticketholders attending the show on Sunday 10 March, 4.00pm will be able to attend a post-show talk at 6.30pm
Relaxed Show
Sat 23 March, 8.00pm

Audio Described Performance
Sun 17 March, 2.30pm Touch Tour & 4.00pm Audio Described Performance
NZSL Performance
Sun 23 March, 2.30pm
To book please click here to be directed to the ATC website
*Lowest standard public price with no restrictions
Recommended for ages 16+
Contains coarse language, smoke effects, loud music and simulated violence.


Presented by
By
Director
Choreography
Designers

Tony De Goldi
Jennifer Lal
Mark McIntyre
Karnan Saba
Cara Louise Waretini

Performers

Semu Filipo
Aruna Po-Ching
Villa Junior Lemanu
Ana Corbett
Jesme Fa'auuga
Haanz Fa'avae-Jackson
James Maeva