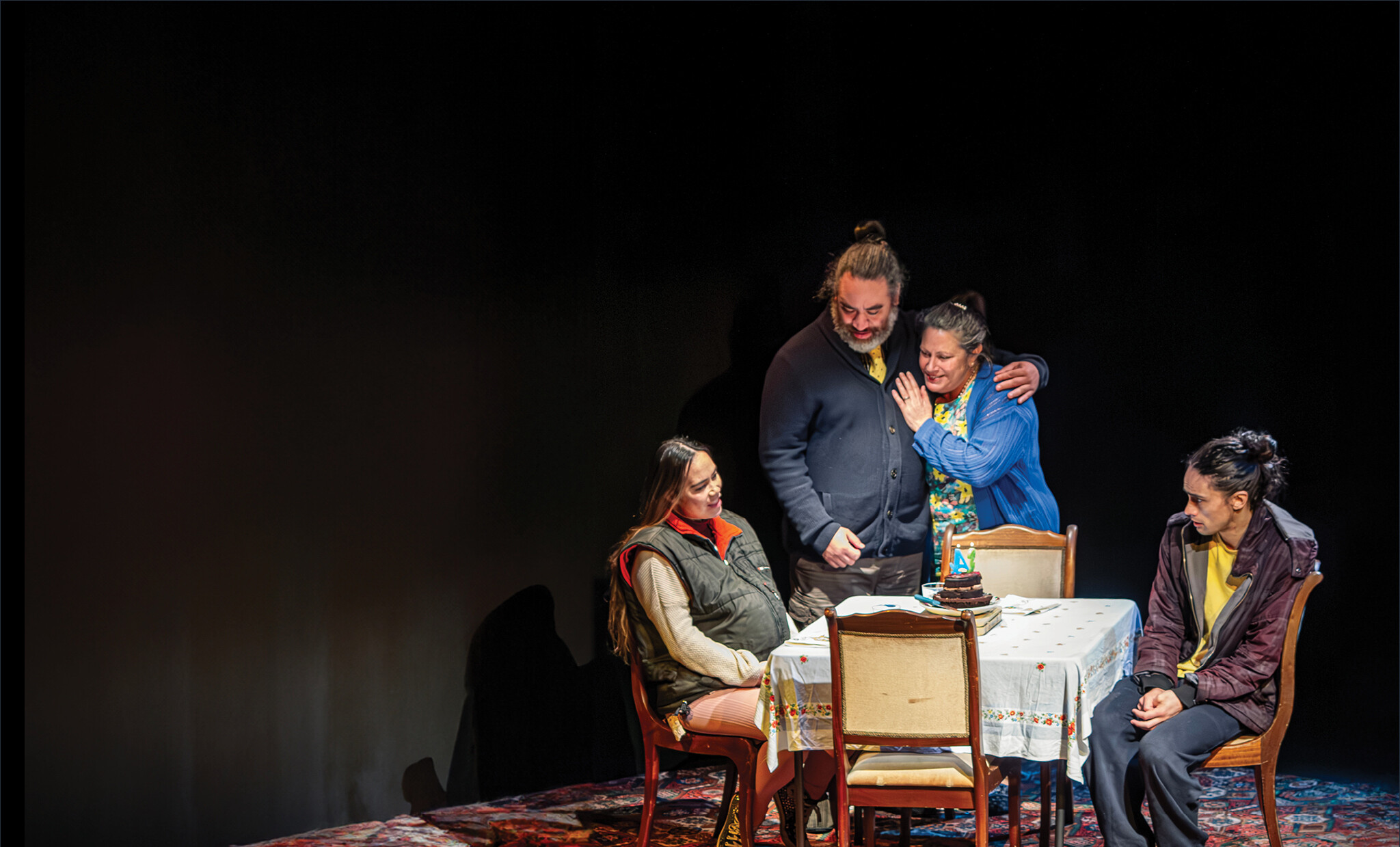 Aotearoa NZ
The Sun and the Wind
In this surreal, heartbreaking, impactful new play, experience a birthday unlike any other.
Rangi and Hūkerikeri, in the midst of quiet celebrations, are caught off-guard when two uninvited guests crash through the door of their home. Hihi and Kate are there to rob the place, until they're mistaken as the couple's deceased son and his wife.
An emotional rollercoaster of grief, hope, love and loss, The Sun and the Wind deftly explores the moral of 'persuasion over force' within a gripping human drama where the threat of violence meets the power of tenderness. It's also a beautiful, heartfelt ode to whānau and connection you won't soon forget.

Audio Described Performance
Fri 22 March, 8.00pm; Sat 23 March, 2.00pm & 8.00pm; Sun 24 March, 4.00pm
Click here for booking form
*Lowest standard public price with no restrictions
Recommended for ages 13+
Contains depictions and references to suicide, self-harm and death, and the use of a fake gun/gunshot sound(s)


"The strong cast delivers this heartbreaking story with power and grace, each fully inhabiting their well-formed characters and delivering an emotional king hit."
"A shout-out to director Edward Peni who manages to make the still and silent moments as compelling as the more dramatic ones."
"The way the stories and narrative threads in The Sun and the Wind intersect is surprising; simultaneously profound and frightening."
Writer, Set Design

Tainui Tukiwaho (Tūhoe;Te Arawa;Tūwharetoa; Whakatōhea)

Presented by
Producer, Alternate Performer

Borni Te Rongopai Tukiwaho (Tūhoe;Te Arawa; Tūwharetoa; Whakatōhea)

Director
Lighting Design

Katrina Chandra (Ngāti Paoa; Scottish; English; Nepalese; Fijian Indian)

Sound Design
Performers

Julie Edwards
Joe Dekkers-Reihana (Ngāi Tū Te Auru; Ngāpuhi)
Tuakoi Ohia (Ngāti Hine; Mataatua; Tainui; Te Arawa; Te Āti Awa; Ngāi Pākehā)