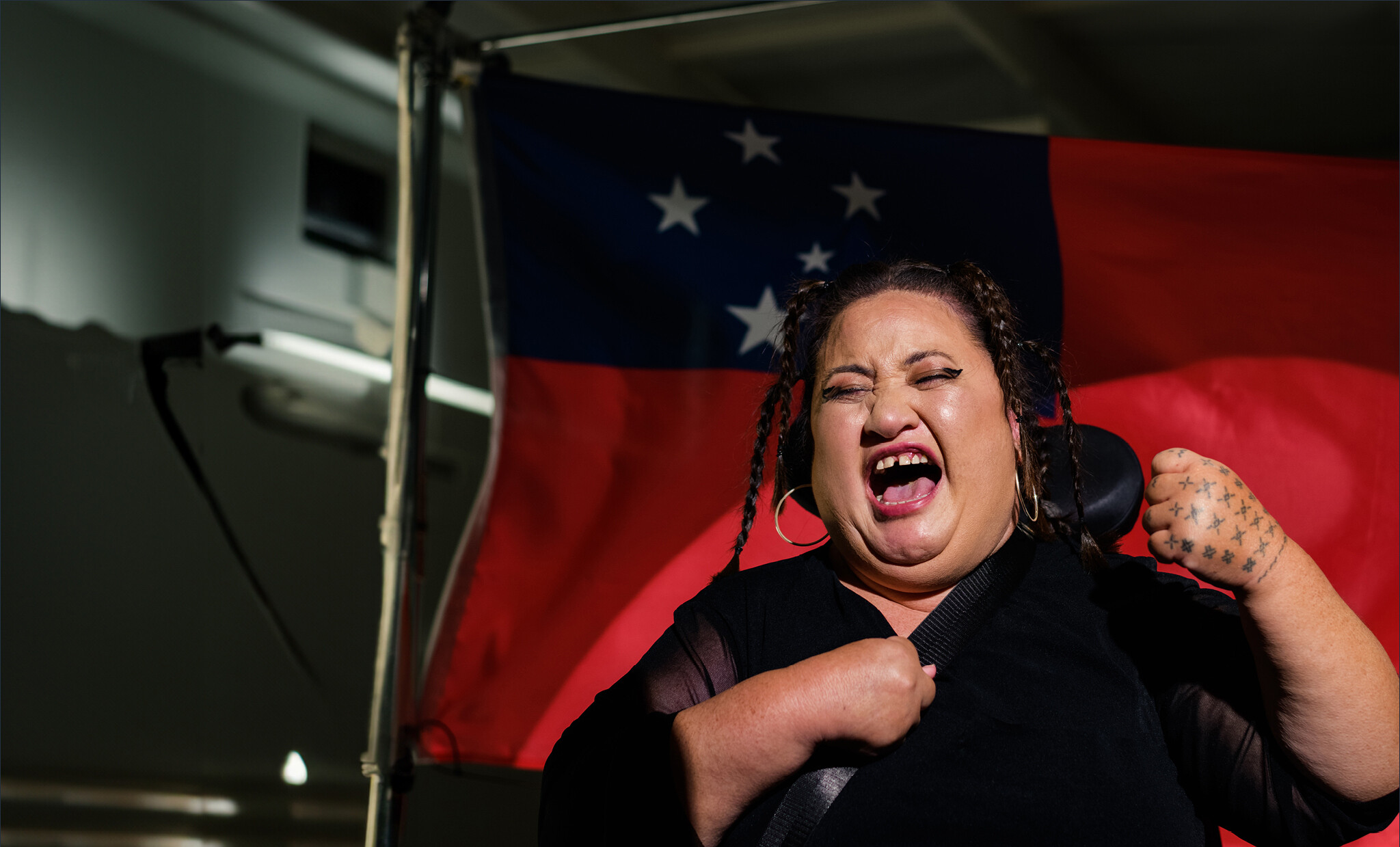 A journey of identity, desire, family, and what it means to be disabled and Pasifika.

Aiga (Sāmoan for family/whānau) is a groundbreaking and emotional Disability-led, Pasifika-led work of theatre told through the lens of the real-life journey of Pacific Toa award-winning, founding member Lusi Faiva.
A collective creative ensemble of women, non-binary, disabled, non-disabled, Pasifika and Māori identities brings this quest for identity and belonging to life, artfully sharing their own experiences with and through Lusi's.
An Aotearoa story with universal resonance. An honest and heartfelt work that moves you, expands your empathy and consciousness and invites you to explore new perspectives of being. With a powerhouse creative team, this work features storytelling at its core; a story that will make you laugh, cry, think and feel – one that needs to be heard.
Features Sāmoan, Te Reo Māori, English and NZSL languages
Relaxed Performance
Thu 21 March, 7.30pm

Audio Described Performance
Wed 20 March, 7.30pm

NZSL Performances
Wed 20 March, 7.30pm; Thu 21 March, 11.00am & 7.30pm; Fri 22 & Sat 23 March, 7.30pm; Sun 24 March, 2.00pm

To book access tickets click here for the Te Pou theatre website

* Child - 14 and under
Recommended for ages 13+
Contains issues of disability, historical institutional and cultural abuse
Presented with commissioning support from Te Ahurei Toi o Tāmaki Auckland Arts Festival.
Creator & Lead Performer
Director
Producer
Spatial, Lighting & AV Designer
Costume Designer
Performers

Iana Grace
Forest V Kapo
Fiona Collins
Jake Arona

Stage Manager
Touch Compass General Manager
Touch Compass Artistic Direction Panel

Lusi Faiva
Rodney Bell
Dr Suzanne Cowan

Touch Compass Education Programme Lead
Touch Compass Access Inclusion and Outreach Coordinator
Support Writer & Intimacy Coordinator
Translation
Creative Producer
Stage Manager Workshop #6
Movement Consultant
Photographer
Videographer

Matt Gillanders - Archipela

Arts Access Aotearoa
Platform Interpreting NZ
Audio Described Aotearoa