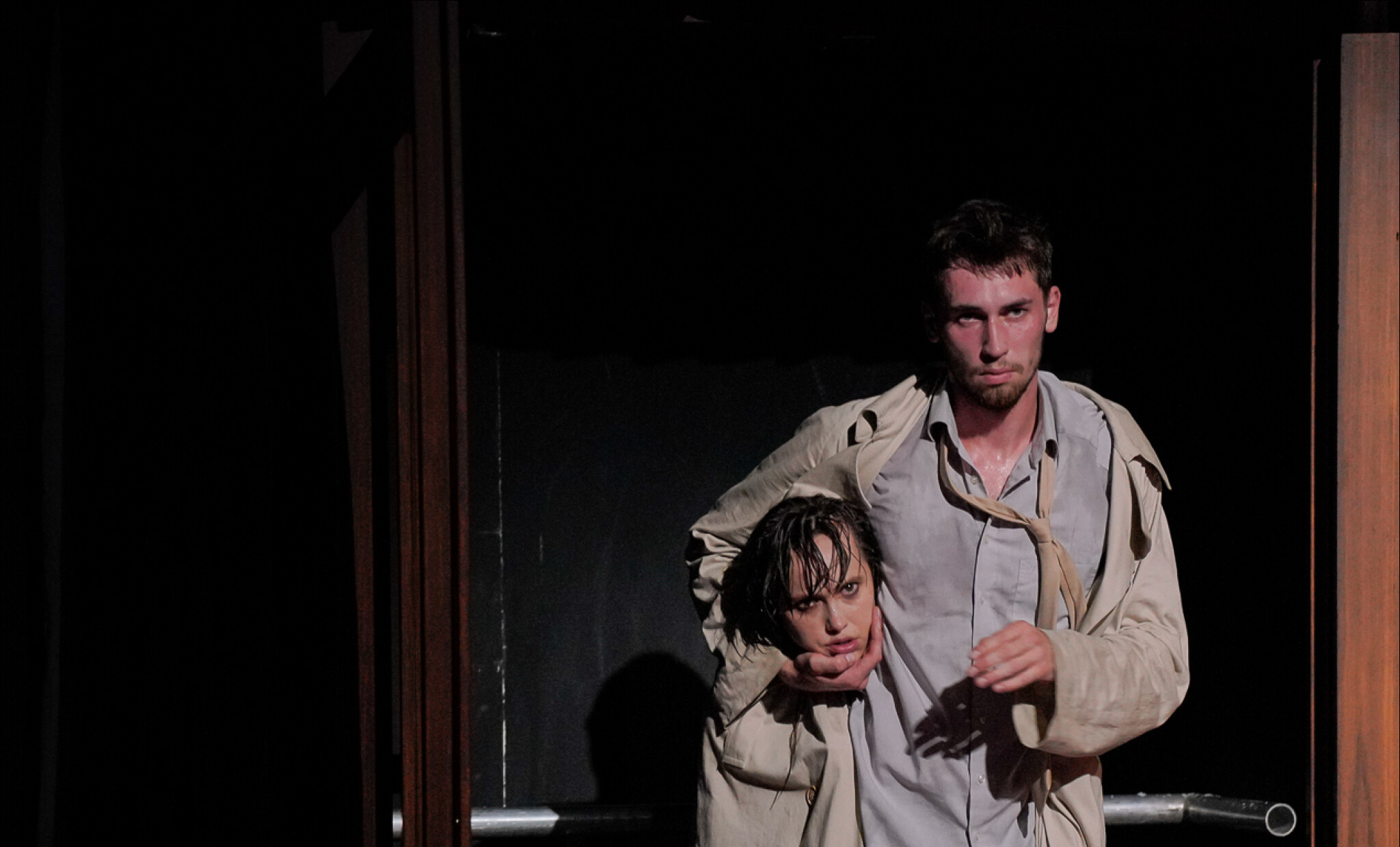 In Aotearoa for the very first time, Belgium's Olivier Award-winning Peeping Tom brings two mind-blowing stories of mystery, horror, illusion and noir to the stage.
In an enigmatic labyrinth of missing doors and lost rooms, various characters wander in a trance between fiction and reality. Memories, desires, dreams and nightmares flash before their eyes. Will they or won't they escape?

The creative minds behind the world's "freakiest theatre troupe" (The Guardian) have crafted an intensely atmospheric, wildly suspenseful thriller that will pull you in and refuse to let go. Boldly cinematic, Diptych is also a masterclass in set, lighting and sound design, and a world-class showcase for the physical prowess of its performers, who move and dance acrobatically like pawns at the hands of unknown forces.
Artist Talk
Ticketholders attending the show on Saturday 23 March, 7.30pm will be able to attend a post-show talk at 8.45pm
*Lowest standard public price with no restrictions
Recommended for ages 16+
Contains nudity and simulated violence


With support from
Platinum Patrons Andrew & Jenny Smith
"[The piece], in which there is no lack of black humor, seems to pay tribute to David Lynch with its atmosphere and with its enigmatic and seductive scenes."
"Peeping Tom follows in the footsteps of theater dance or dance theater with a dramatic conception rich in suggestions and hints. [...] A real universe traversed by the magic of movement and the unexpected."
"Can dance be heart-poundingly exciting? At Peeping Tom, yes."
Concept and Direction

Gabriela Carrizo and Franck Chartier

Performers

Konan Dayot
Fons Dhossche
Lauren Langlois
Panos Malactos/Akira Yoshida
Alejandro Moya
Fanny Sage
Eliana Stragapede
Wan-Lun Yu

Artistic Assistance
Sound Dramaturgy
Sound Composition and Arrangements

Raphaëlle Latini
Ismaël Colombani
Annalena Fröhlich
Louis-Clément Da Costa
Eurudike De Beul

Lighting Designer
Set Designer

Gabriela Carrizo
Justine Bougerol

Costume Designer

Seoljin Kim
Yichun Liu
Louis-Clément Da Costa

Confection Costumes

Sara van Meer
Lulu Tikovsky
Wu Bingyan (internship)

Technicalal Coordinator

Giuliana Rienzi
Pjotr Eijckenboom (creation)

Technical Engineers

Bram Geldhof/Ilias Johri (lights)
Tim Thielemans/Jonas Castelijns/Jo Heijens (sound)

Stage Manageer

Thomas Dobruzskes (stage manager)
Clement Michaux
Kato Stevens (stage assistants)

Production Interns

Lisa Gunstone
Robin Appels

Tour Manager
Production Manager
Communication Manager
Production and Administration
Company Manager
Production
Co-production

Opéra National de Paris
Opéra de Lille
Tanz Köln
Göteborg Dance and Theatre Festival
Théâtre National Wallonie-Bruxelles
deSingel Antwerp
GREC Festival de Barcelona
Festival Aperto / Fondazione I Teatri (Reggio Emilia)
Torinodanza Festival / Teatro Stabile di Torino – Teatro Nazionale (Turin)
Dampfzentrale Bern
Oriente Occidente Dance Festival (Rovereto)

With the support of
Distribution
Created with the Support of

The Tax Shelter of the Belgian Federal Government